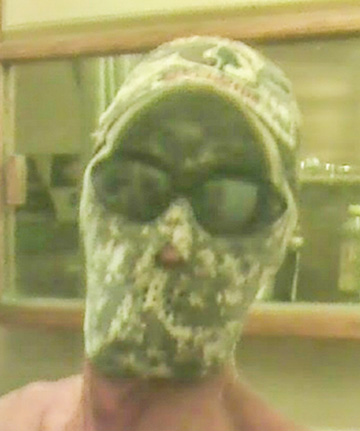 Happy New Year, it is cold out here. Have only seen one boat all week and it's sitting in my carport. So since I've not been out or ever put a picture of me in, I thought I'd send this one so you can tell I'm ready to go and getting rid of this cabin fever.
This picture reminds me of a story a guy told me years ago about his boat breaking down on the other end of Beaver Lake near the old Blue Spring one winter. This fella was dressed to stay warm, kinda like me here. So he got the boat to shore near the park about noon and went to walking down the road. He finally saw a car pulled off to the side so went to tap on the window, not thinking how he must of looked. Poor lady was just enjoying a nice place to eat her lunch. All changed in a moment with that window tap. As her milkshake went in the air, the ignition started the car and she was throwing gravel as he stood there thinking maybe I should of taken my hood off.
Back to fishing. Fish have to eat and they will, we're just taking a short break because the air is a lot colder than the water. Last I heard, stripers were moving out of the river because it cools faster than the deeper lake.
It's the Hwy. 12 bridge area now until March when they go back up. If the lake gets too much below 46° there we could get more fish moving back up closer to the dam.
Running about 200 ft. deep up here by us means there's plenty of warmer water for them in Beaver Lake. Smaller shad are in big schools and easy for them to chase down now, so small shad or brood shiners can outfish the big gizzard shad in the cooler months.
Here at the Island to the dam the trout and the walleye love cold water, and so do crappie and bass. Just go a little slower, a little deeper and watch your graph for those small bait balls, the fish won't be far behind.
Looks like we're out of this deep freeze after Friday with highs in the 40s all next week. I'm wide open. Deer season is over. If you want some meat in the boat, give me a call. We are now running $30 off all striper trips on Beaver and $20 off all trips here at the Island.
Fish now or wait 'til spring or summer, just get your day in the books. Walleye start their spawn run in February, stripers start in March and the whites run up river in April. My poles are ready, are yours?
Until next week put another log in the fire and stay warm.