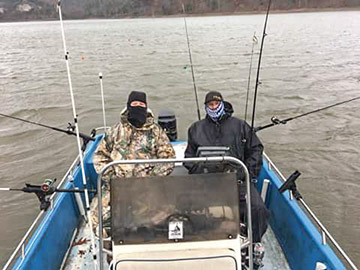 Gallup Turner from Prairie Grove decided to take his father out while visiting our over the Thanksgiving weekend. As you can tell, we had a complete switch from SW winds to NE winds in about 15 minutes. We didn't like it and the fish didn't either. A switch like that affects the barometric pressure so most mammals and fish don't enjoy as much as a warm front, especially this time of year.
The fish are active, the water temps are running in the mid-50s. No pleasure boats motoring around, just a nice peace, relaxing and enjoying what nature brings, with most shoreline space open for absorbing the sun with active fish close to it.
Lake Leatherwood and here around the Island you can find bass, crappie, walleye and perch all close to the shoreline, with good access. Lower means less brush.
You can also catch trout from below Beaver Dam and the  campgrounds from there to Houseman Access. Worms, minnows, small spoons, crankbaits, topwater plugs or about anything that looks like a shad can catch all these fish now, and the weathermen are getting pretty reliable these days so just watch and go enjoy the many nice days when you can.
As far as stripers on Beaver Lake, we do have a few residential fish and bait that hang in the dam area through the winter, but most of the bigger schools are wanting to go upriver because fall also brings the same as spring water temps. So they were up in the War Eagle and White River arms closer to Springdale, but this cold front is moving them and the bait back towards the mid-lake area from Horseshoe Bend Park to the Hwy. 12 bridge-Prairie Creek area near Rogers with good launch sites at all three. And heated bathrooms at Prairie Creek.
Stripers tend to like the hanging a little further from the shoreline along with the white bass now, so your best luck is with a boat. Big goldwater baits, big shad, big shiners and big creek chips can all catch them now. I have a tankful of all three, I'm getting tired of feeding.
Most guides are pretty open for short notice trips now, so just like shoreline fishing, watch that weatherman and keep your poles ready, or call a guide because cold water fish have the best bite.
Robert Johnson, fishofexcellence.com (479) 253-2258.