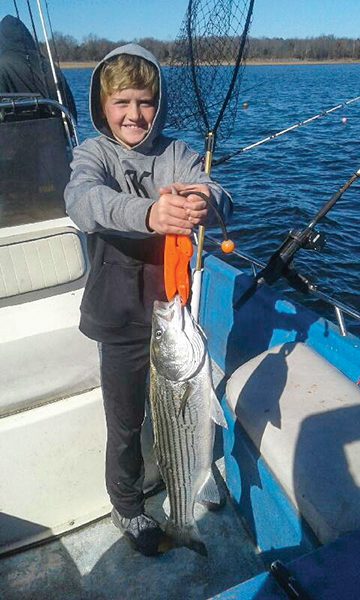 10-year-old Drew Hanson from Lee's Summit, Mo., got a nice striper this week while down visiting family for the Thanksgiving holiday. We had to move back up closer to the mid-lake area since the river cooled down 4 degrees, so most stripers on Beaver Lake are being caught from the Prairie Greek area this side of Rogers, up river to Point 12 where the White and War Eagle Rivers feed into the lake.
Water temp is running from 56° to 58° in that part of the lake. Stripers are being caught from the surface to 18 ft. deep with big shad and brood shiners both putting fish in boats.
The top water bite is on, folks, so drop the weights and if not using live bait, hit the points and flats with your best top water plug. Big Redfins, Poppers and my favorite, the Sara Spook, can also get you some meat in the boat now.
If you can't get out on your own, give me a call and I can get you scheduled in on a 3, 5, or 8 hour trip now since with this water temp the fish are chasing bait all day.
Here at Holiday Island, walleye, bass and crappie fishing is doing well from the Island all the way up river to Houseman Access, with trout also being caught in the same waters since we have cooled down. Top water baits, small jigs and live minnows are all working good now along with small Rapalas and trolling crankbaits.
It's still fall for the fish with some nice days ahead, so get out and catch you some fish if you're getting tired of turkey and ham. Take a kid with you, but leave the sunscreen at home.                          
Robert Johnson, (479) 253-2258, fishofexcellence.com