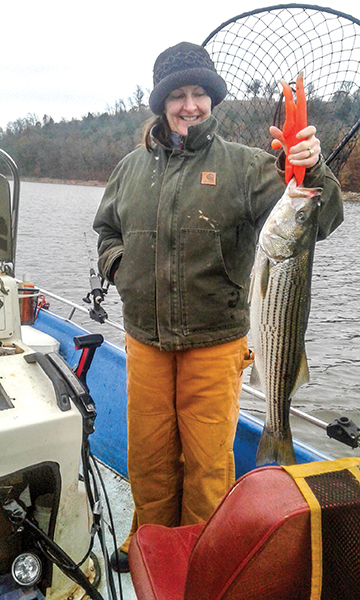 Well, I can't tell where we're catching fish exactly, but we're catching in water less then 30 feet deep up the two river arms. Just look at what Laura Brown of Decatur, Ark., snagged one chilly morning!
A lot of bait and a lot of fish going up the arms until the water gets cold, then bait moves back to midlake, which is the Hwy. 12 bridge area this side of Rogers.
Water temp is about 56° upriver now and the stripers usually stay in river until it gets below 50°. So if you want to get on the shallow top water bite now us a good time.
We're putting in off of Hwy. 412 so we're in the river arms and pretty open if anyone wants to get in this bite. Big and small baits are both working so throw what you have.
Sorry no report for Holiday Island this week, but I know walleye are being caught upriver.
Good luck and take a kid fishing.  
Robert Johnson, Johnson Guide Service, fishofexcellence.com. (479) 253-2258.d