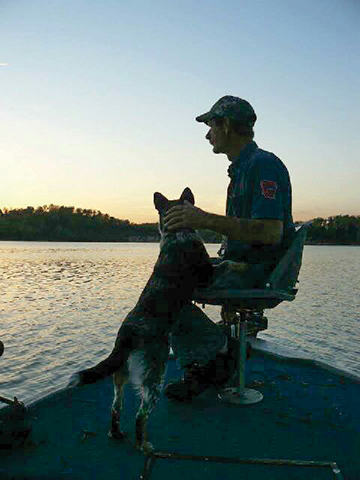 The fishing is hot at sunset. Beaver Lake striped bass are hitting the top at sunset as well as sunrise. It's time for the big spook, Redfins and Chuggers.
With this water temp cooling off, stripers are still being caught best from the Hwy. 12 bridge in the Prairie Creek area to Horsehoe Bend in the Rogers area, and will stay in this area until they do their spring run up the river.
We are now putting the boat in at 6 a.m. for our morning trips and 1 p.m. for our evening trips.
The top water bite is pulling fish, along with shad and shiners pulled behind the boat with and without weights. If you don't know the lake area that well and you're up here on this end like I am, just meet me at Jct. 62 and 187 west of Eureka and I will get you there.
If you want to try your luck on your own, the best places to put your boat in the water to be close to the fish is Prairie Creek Park north of the Hwy. 12 bridge, or Horseshoe Bend Park south of the Hwy. 12 bridge. If you're live baiting for big bait you need to throw a net or buy brood shiners at Barnett's Bait and Pawn in Garfield on US 62 or Hook Line and Sinker in Rogers on Hwy. 12. 
Here at the Island, the bass, crappie and walleye are all being caught in shallower water on the surface in the creek arms, along with going upriver chasing small schools of shad that are also going up that way in the afternoons.
Trips for Holiday Island are going out of the Holiday Island Marina and Beaver Town Park, which both have access to also get your own boat in the water. If you prefer, go for some shoreline fishing for crappie and bass at Lake Leatherwood or for some nice trout below Beaver Dam to Houseman Access off of US 62 west of Eureka.
Whatever you want to fish, for now just head west and you should find the fish. Just wear warm clothing that sheds off fast if you catch a striper, for he will give you a workout better than going for a run on a cool morning.
Till next week keep that line tight and your worms warm.