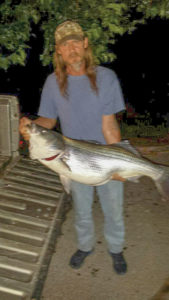 Billy Pollard from Forsyth, Mo., with a nice 32-pound striper that gave him enough meat to feed a few friends. 
Looks like with the cooler weather is cooling the water down a little more every day and the fish are coming to the top and more and hitting the banks more every day.
Our stripers are moving further south but still not far from Starkey's Marina so that's where we're putting the boat in now for a short boat ride to get on them. Two water baits like big Zare Spooks, Redfins and Chuggers are good baits to have tied on one rod now along with a 1 to 2 oz. jig or spoon to get them.
Big shad are still getting the bigger fish, but perch with the dorsal fin cut off and brood shiners can also put something in your landing net.
Here at the Island try your shallow diving crankbaits for the bass and a jig and minnow worked off the bottom slow for walleye or under a float close to the shoreline brush for the crappie. Also look upriver from Beaver for schools of small shad swimming under the surface to catch some white bass, and for a chance for everything from walleye to trout, just throw whatever you have that resembles a small minnow and you should get what you need for a nice fish dinner.
Well that's it for this week. Enjoy our Ozarks and take a kid fishing.