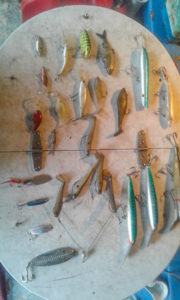 Well, we have rain falling as I am writing this. That's good for the trees to give us better fall colors, and it's good for the lakes that have been dropping fast. It's also good for the fish for that reason, plus since the lakes and rivers are where they call home it's making them very happy. Rain puts oxygen in the water and starts a current. So if they get a little lazy from just sitting in water getting kinda stagnant, they are awake and moving now.
A few things have changed this last week with the water warming and cooling, so were still back about 77° here on Table Rock, and on Beaver Lake the stripers have started their move south but have not moved too far.
Seems to be more big fish hanging around the Point 5 to Point 6 area and up the little and big Clifty creek arms, then here at the dam but we do still have a lot of bait hanging around so there are still a few that can be caught up this way. Most being caught are pretty well close to that 20 ft. mark with both brood shiners and big shad bringing in fish.
Trolling deep diving lures that can get down that far are also catching a few.
Here at the Island the bass have kinda been going back and forth with the warmer days and some have been caught working a spoon or jig deeper by the bluff points, and when not so warm have been catching shallow trolling or throwing about anything that looks like a shad.
Look for crappie still holding close to the shoreline brush in 3 ­– 8 foot of water in the creek arms and the main channel.  Most of the best fishing is for walleye. Whites. And bass are still heading upriver past Beaver early or late in the day. Just look for the schools of small shad and start fishing.
This week's pic is a few of the things I like best. On the left, for striper top water I like the 5-in. spook and the 6-in. chugger. Just twitch them in with the rod tip low. The chugger fast, the spook a little slow. To the right, a couple deep-diving 6-in. baits that get stripers trolling. Now that Fayette Alabama rig lure for throwing.
Then below, big and small spoons to snatch their hatch can throw or jig. Bottom left, some crankbaits that work well for walleye to trout  throwing or trolling.
Well, that's it for this week since we are fishing for stripers closer to Point 5 now we are going out from Starkey's Marina 'til November rolls around. Good luck and take a kid fishing.