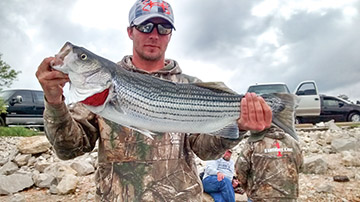 Robert Johnson – Doug Skivers from Stillwell, Kansas, got the big fish this week with a 20-pound striper caught in the Hwy. 12 bridge area near Rogers. This fish already laid her eggs, we're getting some that have spawned and some that are still waiting to lay eggs.
The river warmed up so most stripers have started to move north into the lake area. The best bite through May should be around the Hwy. 12 bridge area, Prairie Creek,  Goose Creek, and moving toward Rocky Branch. As long as water temps stay below 72° no weights should be needed with most fish being caught from the shoreline out to the 30 ft. water. Shad, perch, brood shiners and throwing top water baits are all catching stripers now. For shoreline fishing, May is also a good time to catch white bass, hybrids and stripers that stay on our end from the day use side of the dam.
Here at Holiday Island, crappie have moved into the shoreline brush to spawn and are being caught between 4 and 8 ft. deep, best in the creek arms. We need a good rain for the creeks to get more current, otherwise most the whites will run up the river between the flats on the Island all the way to Spider Creek.
Bass are also moving close to the shore making their spawning beds in the pea gravel. Spinner blades, top water and crankbaits are all catching them now.
Well, that's it for this week. I got a new toy called the Hydrowave that I'm putting on the boat today. It's supposed to call the bait to my boat for more hookups. Can't wait to try it out. Good luck and stay warm.
Robert Johnson. fishofexcellence.com, (479) 253-2258