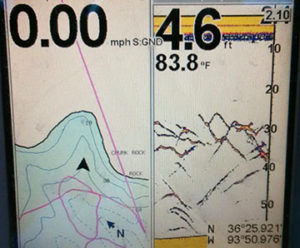 First off, it's lying to you about being 4.6 ft. deep. We are really closer to 60 ft. deep. If you look to the right we are on a 60-foot range, so we are only seeing the water down to 60 because that is all we need to see at this time.
The numbers on the right are correct, and as long as you don't see the bottom you know you're in water deeper than 60 feet. Oh yes, those are fish below us and you can barely see a straighter line running through, that is our bait right before a 12 lb. striper hit it.
The GPS side – You can see by the contour lines we are sitting at 00 mph in the middle and very back of a deep cove on a stack of fish with a little bait just coming into the picture on the right. That reminds me of the guy I had on the boat once who told me we should move all the rods to the right of the boat, believing all the fish their since graph moves from the right to the left side of the screen.
So the picture here tells you we are catching fish holding in the deeper water. The water temp dropped this week from 87° to 84° with these cold fronts, which the fish like, but they don't like the east winds we have been having. So we have had good days and better days, but no bad days.
Stripers are liking the bigger shad, 5 to 7 inches are best now with a few also being caught jigging spoons and trolling deep diving lures. 
Here at the Island I still think the best time to fish is after they start generating in the afternoons, which moves a lot of the green and white bass upriver south of Beaver. For shoreline fishing, I suggest going for trout up near the dam or visit Lake Leatherwood for some crappie, catfish, perch or bass. Good access to the water with a nice cleared out trail that goes all the way around it along with a dock that can sell you the bait or rent you something to move in the water.
Well, I better go for now, enjoy this cool weather and get them kids out before school starts back.
Johnson Guide Service (479) 253-2258