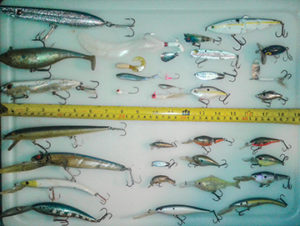 Part 2 Current lures
On the top right you have my favorite, the white rooster tail next to the chrome kastmaster spoon. These are both good for small baits with some weight to get distance. Bring in at a good speed giving the kastmaster little twitches. The rooster tail is one you have to hold low reeling in fast enough that you can feel the blade spinning.
Bottom right leads us to trolling light tackle on 6 – 10 lb. line, and back to the smaller baits being best for crappie and trout. Most of any of these with a lip over an inch will get you down to 11 ft. or more when trolling with 70 – 120 ft. of line out. Run two back rods high out the furthest, with the shallower running baits and two rods  lower in front that run deeper so they are in front and below the back baits. Don't turn to sharp and you should be ok.
Now to the fishing this last week with all this high water and mud that has kept most fishermen and women in 'til the trash gets out of the way. Crappie are having a good spawn in shoreline brush. Problem is what brush to fish, it's everywhere.
We took our Holiday Island trip to Lake Leatherwood this week, which was not as muddy, but pretty stained and the reason this report is about artificial baits. We caught no fish on minnows. Then we went to trolling small crankbaits and caught crappie and small bass about 11 ft. deep. A little noise and comets they can see is what it took.
On Beaver Lake the cleanest water is now from the dam to Rocky Branch. Stripers are now just getting settled in to this end again, so no more drives to Rogers. We will be putting in from the dam now until October. By next weekend Beaver and Table Rock will drop more, along with the mud clearing out more as they move it towards Bull Shoals, which is still below flood level, and our holding lake slowly moving it towards the Mississippi. These fish will be more adapted to this change, along with us. Good luck.