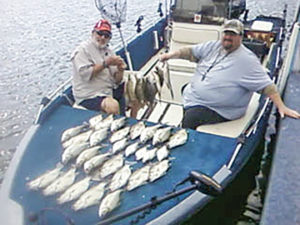 Dogwoods have bloomed, morels are out and the white bass spawn is on. Got Kevin and Marvin Mathewson from Kansas City coming back down Friday just for the spawn. Think this picture was them in 2014, this father and son have fished with me about every year since I started guiding.
Before me they went out with JD Fletcher back when he guided out of Eagle Rock. They just come for the whites, bring their own tackle and also know all the spots, so I just taxi and fish right along with them. They usually go home with a freezer full of fish and you could, too.           
You can find the white bass now in the creek arms or by just trolling from here at the Island all the way to Houseman Access, or just hitting the places they like to hang out. If leaving out of Holiday Island, check the flats between here and Beaver first, then Butler Creek south of Beaver Bridge, the little island on the left to the next bend, turn right.
Further up river you have the grey house on the bluff to your right with dead sycamores in the water. This is good from here all the way down to Cow's Creek, which has two openings on your right. After Cow's Creek is Houseman. I have caught a lot of them here over the years from the bend to the Houseman sign saying you can't go no further without a trout stamp.
Best baits are about anything you got that resembles a minnow, from a jig to the real thing. I like my white rooster tail with a silver blade best.    
Water temps have moved into the low 60s on both lakes, with crappie being caught in water less than 5 ft. deep near shoreline brush, wanting to lay their eggs, too. Most bass are just a little deeper holding off the bluffs, then the flats as the sun gets higher later in the day.
Stripers on Beaver Lake are still wanting to go up river to lay eggs, but not liking the mud from our last rains. Most being caught now are between Monte Ne and the Prairie Creek Area near Rogers. I believe the bigger, smarter fish will be further up on the other side of the mud as War Eagle and the White River clear out. Go south of the Hwy. 412 bridge on the White out of Springdale as far as you can go up, or put in at Hickory Creek Park and head up the War Eagle arm.
Well, I better get this in, 'til next week enjoy the spring and take a kid fishing
Johnson Guide Service www.fishofexcellence.com (479) 253-2258