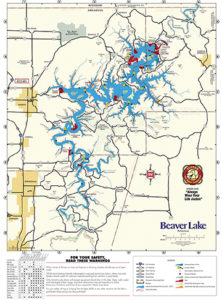 Well, it seems this cold weather caused my Sunday striper trip to cancel out and it blew in on my Friday trip here at the Island that we couldn't get much to go here except some smaller spotted bass. So with no pic I decided to show the map of Beaver and explain how the striper migration goes, starting with where most lay their eggs which is up river.
On the bottom left is Hickory Creek Park with a launch in the park and another at the dock. Which will cost $5 at the dock but you don't need a park pass unless you put in on park side.
If you go up river you see where lake forks, this is Point 12 with the longest stretch of flats on the lake all the way back to Hickory. The White River goes south here and  that's the War Eagle coming in from the east. This is where were catching the stripers now.
On the flats and up both arms is where they will lay their eggs. After the spawn the river warms faster. Then the lake warms, so they head back north, Horseshoe Bend to the Prairie Creek and the islands by 12 bridge being where they usually settle in until about June.
As the water warms more they move towards Rocky Branch. Then when it's warm enough to swim and back up in the 80s they spend the summer at our back door between Rocky Branch and Beaver Dam until we start to cool back down, which is close to October.
Then they migrate back towards the 12 bridge area for the winter, along with most the shad. When the water is cool they will be as shallow as 2 feet, which is now. When cold, below 50°, they might be as deep as 30 – 40 feet deep, and the same in the summer when the water gets above 74°.
The colder months they like small bait best so buying shiners can put fish in the boat. As the water warms, big shad from 5 to 10 inches work best.
The report for now is water temp here at the Island and up river on Beaver is about 54°. I don't think this cold front will drop it much, so by the middle of next week we should be back to where we are now.
With crappie in 8 to 12 feet of water, catch them on jigs and minnows 6 to 8 feet deep. Bass are on the flats with the sun then holding deeper off the bluffs. And walleye here at the Island, up river or back hanging off the flats here after their eggs are laid.
Well, that's it for this week. Got a warm weekend coming to let us know summer is closer than winter. So get that tackle ready boys and girls. Johnson Guide Service   www.fishofexcellence.com (479) 253-2258