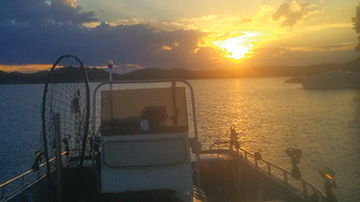 It is so nice to enjoy the sunrise without freezing the toes. Nice cool mornings and warm sunny afternoons means the summer pattern will be here soon, but for now were still catching both stripers and bass on top to 18 ft. deep on Beaver Lake.

Live bait and top water lures are your best bait now with a lot of bait and fish holding on the pea gravel flats. Perch and shad are both catching stripers if you're a live bait fisherman or woman, if not the Zara Spook still seems to be the number one lure to throw on top by most.   
Water temp is up close to 75° now about everywhere except the tailwaters, which runs about 54° and keeps the trout happy. You might enjoy just relaxing on the shoreline below the dam with your pole and some power bait – you should go home with some nice trout for dinner.
Lake Leatherwood warms a little slower than the bigger lakes since it's spring fed, but it's starting to turn on with some nice crappie being caught. If you have never been there, it's a nice 100-acre fishing hole that has been here a lot more years then our big lakes. It is also our City Park that's just a short drive west out of town on US62. Believe is one of the last handlaid limestone dams that still exist. There is no charge to fish or just enjoy the peaceful setting it offers.   
They even have a dock where you can rent about anything you can paddle, or get bait or tackle. By being a no wake lake it keeps your cost low since you can enjoy it all without any fuel. We are very lucky to have all the water offers here. I do feel we are truly in the heart if the Ozarks. Till next week smile and enjoy what it can give you and keep it clean.
Johnson Guide Service (479) 253-2258 www.fishofexcellence.com