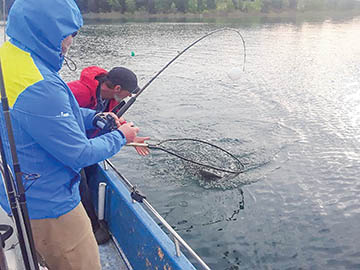 Not your fish until it's in the boat. This one made it in along with three more stripers and a nice smallmouth last Friday on a outing with Mark Rysterholz from Fayetteville, Ark.                                           
Large shad were what the stripers wanted, with no weights. We caught the smallmouth on a brood shiner with weight about 12 ft. deep.                               
Well, the striper spawn might be over up river on Beaver Lake with all the mud and logs, but the water's clean and pretty from Hwy. 12 bridge to Beaver Dam. The cold front dropped our water temps back down to around that 65° mark, so we still had fish with eggs all around us with most just slapping our bait Monte Python Style. It reminded me a lot of a Great White chasing a seal out of the water.               
We caught our fish Friday in the Rocky Branch area so that means from now through summer we are able to get to them going out from the dam. The top water bite is still the best, so throw big top water lures or freeline big live bait from 60 to 100 feet behind the boat.                 
We also had a trip here at the Island and searched the shoreline brush for some spawning crappie but with all the high water here we decided to go up towards the tailwaters and caught some nice rainbows from Beaver town to the dam trolling flicker shad 6 – 11 feet deep with crawdad being our best color.               
The crappie spawn is now on and they should have a good hatch this year with all the brush to choose from. Just run the shoreline close with a minnow or jig in 2 – 4 ft. of water till you find them.                   
With the temps warming up fast the water temps will be hitting the 70s about next week, so if bass are what you are searching for I would start looking for their nest in the pea gravel also about 2 – 4 ft. deep. They will hit about anything you throw to protect their nest.                                     
Well, it's a nice day out and I have a day off so I'm going to enjoy a day off the water and get ready for my next trip. Enjoy the spring and the sun it brings, bring the kids and pass it on. Grab some worms to make them happy because bluegill are a kid's fish and are pretty easy to find along the shoreline now also.
Johnson Guide Service (479) 253-2258 www.fishofexcellence.com