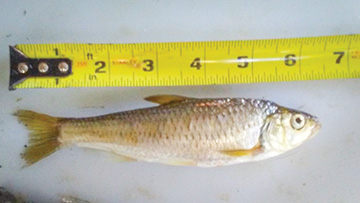 Now that's what I call a good store bought bait. Golden Shiner. What we call brooders, which should be 4 inches and up, not 3 1/2 inches with two-week old bait mixed in with the new bait. I went 220 miles away to get this bait straight from the farm it was bred. Got enough of these along with crappie minnows and food to last the rest of this year. 
With the new AG&F law that went in effect Oct. 1, re: AGFC – wild caught baitfish. To avoid the spread of silver carp (jumping carp), snakehead and zebra mussels, it is now unlawful to use wild caught baitfish, including crawdads, unless caught in the watershed in that water body where fishing. Only farm raised baitfish purchased from a licensed store.
This means you can't put your boat in or out of the water with bait in your tank unless you have a receipt from a bait dealer.
Along with my Black Salties and this cool water coming back, all fish will be moving back shallow and hitting the top again. We got down to about 74° water temp with that last cool front, then came up to 79° with the return of the last warm front.
Looks like it will be dropping below 72° after this next week and the top water bite will be on for all the bass species again from now till December. Until then, fish top water early, then with the sun up higher go down deeper with a crankbait, dropshot, jig or spoon.
Look for walleye about 20 f.t deep and crappie about 8 – 12 ft. deep in the trees and brush. 
Good luck and keep that bait happy.