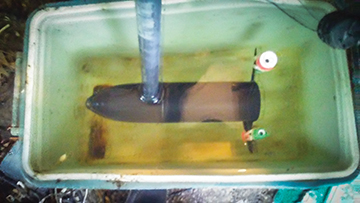 Thought this would be a good column to talk a bit of what are some of the new ways to get fish to come to you. Down in Texas for years they have been splashing the water with their rods to sound like fish feeding to draw them in. Now they have come up with the idea of running a transom trolling motor on the surface with an attachment to make that slurping sound.
Well, I have an extra troll motor, so this is what I came up with. Just kicking it on and off sounds just like fish slurping the top. I have also wired in a HydroWave fish caller that has a speaker in the water that makes shad feeding sounds. I have seen this draw bait to the back of my boat before.
So with the combination of both I just hope we catch our limit this weekend – on our poles instead of them just jumping into the boat.
The fall bite is on, people. Beaver Lake has been rated the #1 place to fish in the state for October and November. With stripers being the #1 fish. Water's cool and it is time.
White bass, largemouth and spotted bass are all chasing bait to the top.
I work with four other guides and all have more days open than they have booked. Most are booked up in the heat of summer when the fish are deep, but open now with cool water and a top water bite.
So if you have a boat, don't winterize it yet. If you don't, call a guide or hit the river for some trout. Just don't put them rods up yet.