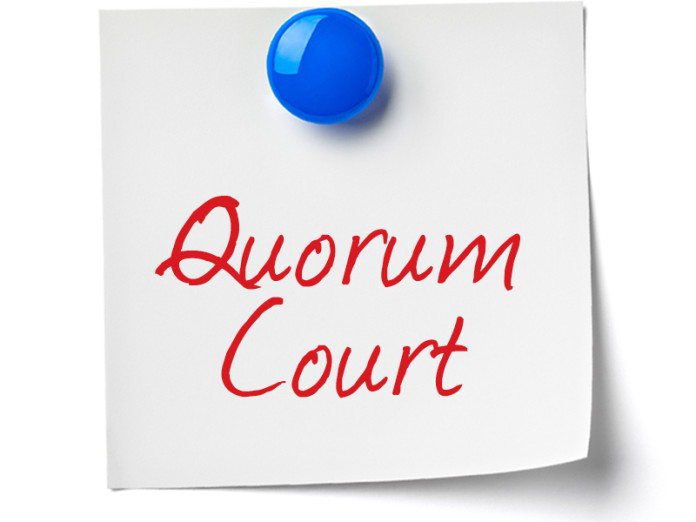 The first Quorum Court meeting of the year began with a blank agenda, but an emergency situation regarding courthouse security provided a topic for discussion.
Justice of the Peace Jack Deaton proposed an addition to the agenda to upgrade video and audio recording technology. The Carroll County QC has an ordinance in place requiring a unanimous vote from JPs to add an item at the table, and all agreed to discuss the proposal.
Deaton said the Eastern District courtroom has not had security cameras for several months, and he described shortcomings in the audio system. Some high-profile cases will come to this courtroom in February, he said, requiring immediate action. Deaton said JPs will need to address a similar situation in the Western District courthouse next month.
Deputy Prosecuting Attorney Devon Still described the shortcomings of a projection system, which could not display photographic evidence adequately. She also explained the importance of the audio recording system, which can play a critical role in an appeal. Under such circumstances, the court reporter has to return to the original audio recording to check the transcript.
A new wide-screen TV will accept a variety of inputs and eliminate need for a projector, and will come from the circuit judge's budget. Still also remarked on the audio difficulties in the Western District courthouse. The new audio recording technology will help preserve various audio inputs and cost about $16,000. JP Lamont Richie said the money had been included in the 2017 budget, but was not spent. 
JPs all approved the technology upgrade.
During JP comments at the end of the meeting, JP Noreen Watson reported on her continuing efforts to remove inconsistencies in the county employees' manual. She said the Association of Arkansas Counties has just released a model prepared by the AAC's risk management firm. Watson said she would attempt to merge that document with the revised Carroll County manual.
At the end of that process, Watson will send the compilation to JPs and other elected county officials and department heads for evaluation. She asked for feedback before the new manual comes to the table for a vote, saying, "If we expect every employee to sign this, we as a quorum court need to support it without exception."
The next meeting is Monday, Feb. 12, at 5 p.m.