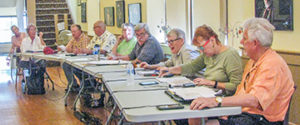 Eureka Springs City Council held its first regular meeting in the lobby of the Auditorium Monday, a temporary home of city government meetings. Mayor Butch Berry said the Community Center Foundation reached out to him again recently with a possible new arrangement for permanent meeting space there. This would be a third option in addition to the Norris Street site and the downtown fire station. Alderman voted at the Sept. 11 meeting to make a decision at the Oct. 9 meeting on where to relocate early in 2018.
Aldermen were seated behind tables in a bit of an arc facing the bar in the lobby, and the camera was stationed behind the bar recording proceedings to be broadcast later. A few chairs were placed in short rows on each side of the bar, so audience seated on opposite sides could not see each other. Two city officials, two reporters and five others, one who used the chair lift to get up to the lobby, were present.
Other items
Discussion of renewing the group tour franchise for Joe Gunnels Tours was postponed. Berry will meet with Gunnels and Transit Director Ken Smith and report back to council.

Aldermen voted to reseat Susan Harman in her position on the CAPC.

At the end of the meeting, alderman Mickey Schneider expressed her displeasure with the fact council was pressured to move its meetings to the lobby of the Auditorium to serve the needs of only a few folks. She said she received "a ton of phone calls" from elderly folks who have relied on watching the live broadcast of city meetings from the comfort of their homes. Schneider said this is the first council that has actively attempted to find a meeting location compliant with regulations of the Americans with Disabilities Act, and she was furious two persons would not wait an extra three months for council to complete its work, calling it disrespectful.
Next meeting will be Monday, Oct. 9, at 6 p.m., in the Auditorium lobby.