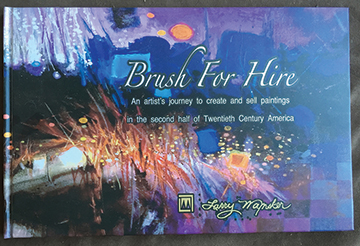 Larry Mansker is featured artist for the month of June at Eureka Fine Art Gallery. Larry will share the stage with Maureen Daily who is the gallery's three-dimensional guest artist for the month. An opening reception will be held during the Second Saturday Gallery Stroll, Saturday, June 11 from 5 to 8 p.m.
Larry will show new paintings of Eureka Springs' scenes and debut his new book, Brush For Hire, a personal account of his 50 years of creating and selling his art around the world.
Maureen will be showing her new, mixed media and clay sculptural works.
The gallery is at 2 Pine St., next door to Brews.
On Sunday, June 12, Mansker and writers Joyce Zeller and Mariellen Griffith will be in the Crescent Hotel Conservatory signing books. Ms. Zeller is author of six novels, including Love in a Small Town and Hidden History of Eureka Springs. Ms. Griffith has published three novellas, Murder at Dairy Hollow, Murder at the Crescent Hotel, and Murder in Eureka Springs. This gathering commences at 4.