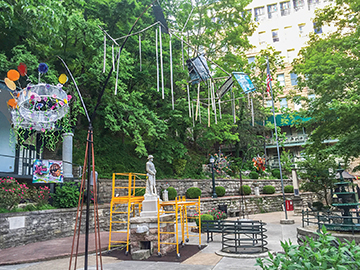 When you invite people to join you for a festival, it's always a good idea to provide something for your guests to enjoy. And this year, thanks, in part, to a little CAPC funding, visitors and locals were entertained with some impressive visuals.
The Four Seasons Project, Janet Alexander and John Stalling's towering mobiles in Basin Park were the perfect festival centerpieces, despite the competing scaffolding surrounding the Doughboy. Did we really have to restore the WWI statue during May? Janet's interactive mini-mobile building event resulted in visitors taking home a handmade Eureka experience and treasure. It's that kind of word of mouth that no advertising can buy.
In this app happy world, Mackenzie Doss and Edward Robison pulled off an interactive, Shakespearian experience with their Augmented Reality "Eurekan Spectacle," where people were led to various spots around town to witness locally acted scenes of the Tempest through their phones or tablets.
How nice seeing people fill our city Auditorium to watch local theater. It had been awhile, and the Five and Dime's production of Dance of Deceit raised a few eyebrows with its adult themes. Congratulations Tom, Ann, Larry and the cast and crew.
These three events, combined with private sector activities like Books In Bloom, the Artrageous Parade, drumming and music in the park, the White Street Studio Walk, the Plein Air Festival, gallery strolls, Yard Art and more, made for an exciting month of May.
It's important we keep this creative momentum year 'round, that we continue to support the artists in our community and continue promoting Eureka Springs as a long-standing arts destination. Our art history dating back to Elsie and Louis Freund and long established institutions like the Eureka Springs School of the Arts, the Writers' Colony and Opera in the Ozarks, so rare in a community of this size, are important cultural foundations on which to build.
With neighboring cities like Bentonville and Fayetteville upping their arts and cultural cred, complacency is not an option. And while our tiny town can't compete with these larger cities and their corporate money and funding, we have something else to offer and that's the unique town itself.
Eureka Springs is an organic, living, breathing entity built on a mountainside, complete with historic architecture, rock walls, natural springs, gorgeous vegetation, steep and winding roads and not a stop light to be seen. It's a piece of stand-alone art you can't find anywhere else in Arkansas.
This is what draws people here and makes them come back, this and the diverse, passionate, creative people who inhabit this tiny town of 2,300.
May is over but it's not too early to start focusing on next year. Continued arts funding and promotion should be a long-term commitment that will pay off in the long term and we need to encourage the CAPC to renew its commitment for the arts even more next year.
This year's festival provided a strong template on which we can continue to build. It's a small, no risk investment that will benefit the future and help cement our reputation as Northwest Arkansas's original arts and cultural destination.