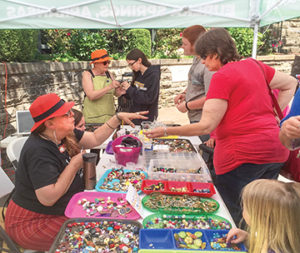 For the first time in 20+ years I'm going to miss the White Street Studio Walk. Heading north for a family wedding also means missing Books in Bloom, the conclusion and winners of the Plein Air Festival at Inn of the Ozarks, the debut of 40 new works by Jim Nelson and the 2nd annual Bird Cage Art Bazaar, across the street from Basin Park.
The WSSW, always the third Friday in May, rain or shine, has been a steady anchor for the May festival. It was conceived by White Street artists and neighbors, Zeek Taylor, Eleanor Lux and Mary Springer, 27 years ago and is a showcase for some of the town's best creative talent, and always a wonderful time.
Last year's surprise hit was the Plein Air Festival, sponsored by ESSA, where artists from all over came to paint the local scenery and compete for prize money. I've since learned there's a whole Plein Air circuit, where mostly professional artists travel from festival to festival, and Eureka Springs is on the map. Several artists I met last year told me they'd fallen in love with our town and would be back. Rogues Castle, Blue Spring and our historic downtown are some of this year's plein air locations.
One downside of hosting your own event is missing everyone else's. Saturday night's "Grand Gallery Stroll" at Eureka Fine Art, featuring artists Drew Gentle and David Zimmermann, went well with a steady stream strolling in and out from next door at Brews, where Pearl Brick and Melissa Carper were playing.
But it meant missing Timm Hilty's Bloody Marys at Zarks, Emily Hartley's reception at the Jewel Box, and Ron Lutz's cigar box guitars at Studio 62, along with many others on the Stroll. As one friend put it, "a town of over choice sometimes."
Also Saturday, the Ozarks Chorale, led by conductor and arranger Beth Withey, performed at the AUD, which I'm told was lovely. To celebrate the Nuits Rosé Wine Festival I forewent my usual heavy red for a glass of Rosé at the StoneHouse.
Another weekend highlight was learning to jitterbug upstairs at the Melonlight Sock Hop with dance partner Heather Huber. I then got to practice my moves with the young and talented Mia Evans, who wore the perfect '50s twirl skirt.
I love Janet Alexander and John Stalling's towering mobiles in Basin Park. Janet and friends hosted an all day miniature-mobile-making event in the park. Trays of trinkets were laid out on tables for people to choose from, which they attached to pre-made mobile structures. When I was there a large group of high school art students from Camden, Ark., was having a ball.
John Two-Hawks held his traditional Mother's Day concert at the AUD and I got to tie a red carnation to the Bridge of Love in memory of my late mother.
It was another jam packed week, or at least weekend.