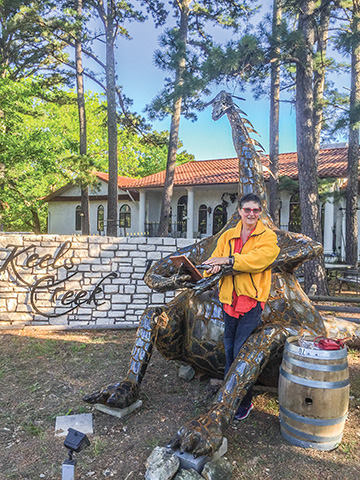 It's the 30th anniversary of the Eureka Springs May Festival of the Arts and the city, artists and private individuals are stepping up. Unlike the milestone 70th annual Folk Festival last November, people will not be able to say, "We came, but there was nothing here to see."
The Artrageous Parade, interactive art installations, an original play, Books in Bloom, The Plein Air Festival, Gallery Strolls, art fairs, drumming and dancing in the park, Yard Art, the White Street Studio Walk and a celebration of Rosé wine should keep locals and visitors inspired and entertained.
The first week is jammed with events, starting with Thursday's opening reception for Mackenzie Doss's and Edward Robison's Augmented Reality Project, "The Eurekan Spectacle." It's Shakespeare with a virtual reality twist from 4 to 6 in Basin Park.
Also Thursday, from 5 to 8 p.m. is the opening reception of the Artist Portraits series at Brews. It's a look back at my 2004 series documenting 75 local artists in 60 individual photographs. The collection, on loan from Elise Roenigk, will be shown for the first time in 13 years.
Friday is the must-see opening of Janet Alexander and John Stalling's "Four Seasons Project" in Basin Park starting at 6 p.m. The four giant mobiles, each depicting a different season will be unveiled, followed by a dance performance led by Lorna Trigg.
Saturday, the annual Artrageous Parade pays homage to late Eureka Springs artist Max Elbo who died early this year. The parade kicks off at 2 p.m. and is followed by a Melonlight dance performance in Basin Park, then Drumming in the Park until 8 p.m. And don't forget the Gallery Stroll, which continues until 9.
Sunday marks the world premiere and one-time-only performance of "Dance of Deceit," a new play by local playwright Tom Gorsuch. This is an adult-themed play – so don't take the kids unless you want your eight-year-old educated about sex and messy relationships. The 2 p.m. Sunday matinee at the AUD is by $10 suggested donation. Come out and support local theater.
Starting Monday, and billed as a living art installation, people are asked to bring "live flowers only" to decorate the fence of the Basin Spring Bath House bridge over Main St. It will be up all week with a Mother's Day photo op May 14 at 1:30. I love the concept, but have concerns it might look like an Addams Family Mother's Day by week's end.
After a long hiatus, Yard Art is back for this year's festival, and maps with locations will be available around town. Sponsored by the Eureka Springs Gallery Association, we have 19 official entries and from the sneak peak, some are wonderful.
And make sure you pick up a copy of the Independent Fun Guide with a full listing of all of the ESMF events.
See you on the street.