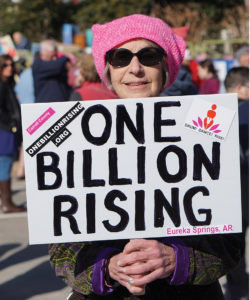 What began in 2012 as a worldwide creative dance protest is emerging as a collective resistance using art and solidarity as powerful tools for protest against all forms of violence. OneBillionRising is the biggest mass action to end violence against women in history. This campaign began as a call to action based on staggering UN statistics that 1 in 3 women on the planet will be beaten or raped in her lifetime.
According to The National Coalition Against Domestic Violence, nearly 20 people per minute are physically abused by an intimate partner in the U.S. In one year, that's 10 million women and men.
The OneBillionRising event is on Feb. 15 at 5:30 p.m. at FireOmEarth in Eureka Springs. This year's format has been changed from a large public event to a Women's Gathering. FireOmEarth is one mile off North Main St. on Mill Hollow Rd.
This year's theme is "Rise! Resist! Unite! in Solidarity Against Exploitation Against Women.
Speakers include counselor Jillian Guthrie and clinical social worker Brita Rekve, who has worked for years counseling abused women. Phyllis Moraga will be tending The Fire Circle, and refreshments will be served.
Donations will be accepted for The Purple Flower Domestic Violence Resource and Support Center for Carroll County. A small donation for the space and refreshments is appreciated.
To learn more, go to onebillionrising.org.